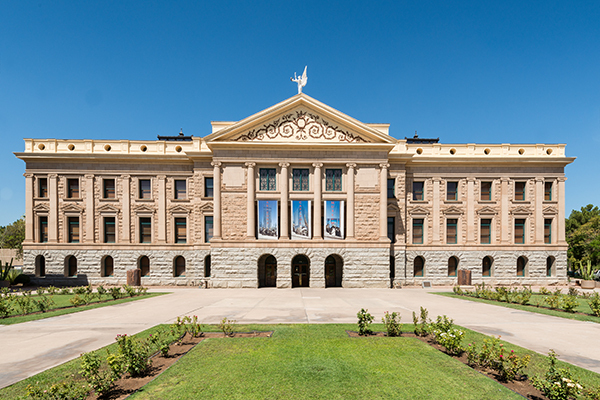 Pima Association of Governments monitors state and federal legislative proposals that may have an impact on the region's access to funding for infrastructure improvements, policy changes that affect water and air quality standards and efforts, and more.
PAG policy analyst David Zynda is responsible for tracking bills proposed in the Arizona Legislature and both houses of Congress. He shared some insights about the much-watched infrastructure proposals.
What trends are you seeing in state legislation regarding transportation?
Several transportation bills are making their way through the Arizona State Legislature. Many of the transportation funding bills potentially will have the greatest impact for our region, as they provide much needed funds to advance large infrastructure projects across the state. All of these bills are technically appropriations bills, meaning they designate a certain dollar amount from the state general fund toward a named project. Eventually, these bills end up in a large budget bill if they are successful.
What trends are you seeing in federal transportation bills?
The most sweeping changes in federal transportation tend to come every few years when Congress reauthorizes federal funding for many transportation programs. These programs, such as the Surface Transportation Block Grant Program, provide billions in funding across the nation for a variety of projects from major national highway system improvements to the establishment of bike and pedestrian pathways.
Recently, the Infrastructure Investment and Jobs Act, also known as the Bipartisan Infrastructure Law, was passed by Congress and signed by the president.
What do we know so far about the Bipartisan Infrastructure Law's impact on southern Arizona?
The law will provide sweeping increases in federal funding to transportation infrastructure, water infrastructure, wildfire mitigation, and power/grid infrastructure at levels the state has not seen before.
While the bill has authorized funds for infrastructure improvements, no funds have been appropriated at this time. Once we know more about actual appropriations, possibly this fall, we will have a better picture on the transportation funding distributions to Arizona and southern Arizona.
Explain a bill you're watching that is particularly interesting or impactful to our region.
State bill HB 2728 could set the groundwork for a large impact project on our region. If approved as is, the bill outlines $14 million in funding for a Tier 2 environmental study of the Sonoran Corridor. Completion of the study is a prerequisite to construction. This corridor would connect I-10 near the University of Arizona Tech Park to I-19 near Sahuarita, establishing more efficient infrastructure to support business activity at the Tucson International Airport and other economic and trade centers along the way.