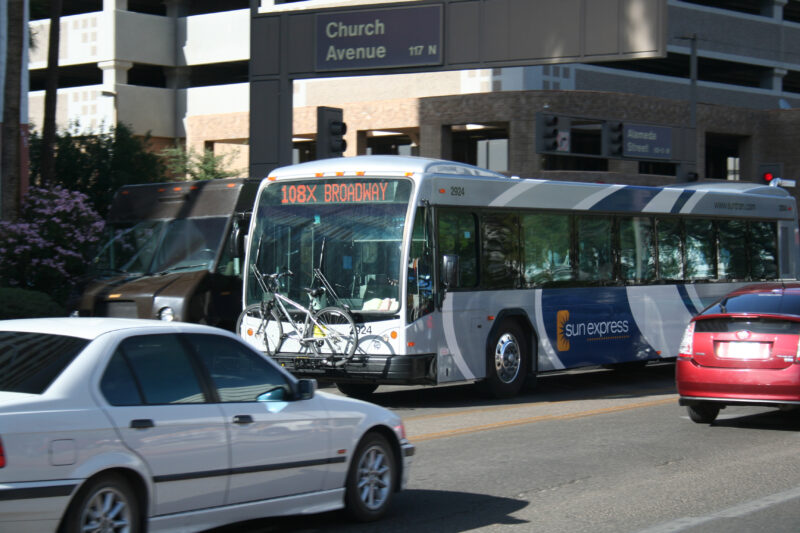 More people are returning to traditional worksites now that pandemic-related policies are changing, so it could be a good time to think about whether an express bus or a rideshare program can be part of your routine and ease your commute.
Choosing to travel with others will reduce the total miles traveled on our streets and the emissions that enter our region's air, especially in the summer ozone season. The personal benefits can include less stress, additional free time and reduced vehicle maintenance costs.
What is Sun Express?
Sun Tran, the greater Tucson region's mass transit system, offers a number of Sun Express bus routes. Meant to move commuters more quickly from one area to another, the express routes provide service to employment hubs such as the University of Arizona or Downtown. Sun Express is funded by the Regional Transportation Authority in its 20-year plan to improve transit and other transportation options in the Tucson area.
Sun Express routes were cut back due to the pandemic, and now, as large and small employers are bringing staff back to their former worksites, demand is changing. Sun Tran has been continually adjusting its operations to meet current ridership needs and safety protocols, said Davita Mueller, Sun Tran director of service planning and development. She evaluates which routes to offer and their frequency.
Each express route has at least one trip in the morning and one in the afternoon, she said.
"As of May 15, we continued to see those ridership numbers go up slightly, a little at a time."
Sun Tran wants to make the service work well for everyone, so it continually monitors the number of riders and requests for additional service to determine where it can supplement service. But, there's also a driver shortage.
"As we have workforce available, as we have more requests and people that need to get back to the office, we'll start adding trips one or two at a time," Mueller said. You can help Sun Tran figure out where and when it needs to adjust its routes by taking this survey to share your preferences for future express services.
Existing Sun Express routes are listed in the latest edition of the express schedule. Don't see your route or your preferred times? Share those thoughts on the Sun Tran Express survey to help Sun Tran determine how to adjust its service.
All transit services provided by Sun Tran, including Sun Express routes, are free through the end of the year.
What is Sun Rideshare?
Whether you are used to riding an express bus that's not yet back on the current schedule, or if the express routes don't work for your destinations, other options for lower stress, cleaner commuting are carpooling or vanpooling.
Pima Association of Governments' Sun Rideshare program offers a rideshare matching service to help commuters find compatible partners to share the trip, from the best place to start and end the trip, to riding with someone who would rather do the driving than check their email, or vice versa.
Depending on demand and interest, the service can help match another driver or even a group of people who can ride together in a larger van to share the cost and stress of commuting.
And, the rideshare service can complement express service. If your employer has enough employees vanpooling to work along the same route, it's possible that Sun Tran could see value in adding a new express route to serve your group and others.
Learn about your ridesharing options and register at https://pagregion.com/mobility/sun-rideshare/