Vehicle miles traveled in the greater Tucson region shifted temporarily during Gov. Doug Ducey's shelter-in-place order this spring along with business and school closings due to the arrival of the COVID-19 pandemic. By June, however, vehicle miles traveled in Pima County have recovered to near January 2020 numbers.
Using data from Google Mobility, PAG staff identified that travel activities to the grocery stores and pharmacies decreased by nearly 10% between March and June. During that same time, travel activities to workplaces declined by 36%, as compared to the January-February 2020 baseline.
However, declines in transit ridership may take considerably longer to recover. Sun Tran ridership declined by 30% comparing March-June 2019 to March-June 2020. Sun Link ridership declined 68% in the same time period. All transit services continue to show ridership decreases as of June 2020 with overall ridership across all transit services 30% below January-February 2020 levels.
One of the most impacted employment sectors was Hotels and Resorts, which experienced a 64% decline in daily trip activity at locations between March and June.
Travel activity in and out of retail locations has rebounded in June to above January and February travel levels by 16%. While vehicle miles traveled are rebounding, it is too early to know if shifts in traffic patterns will continue long term.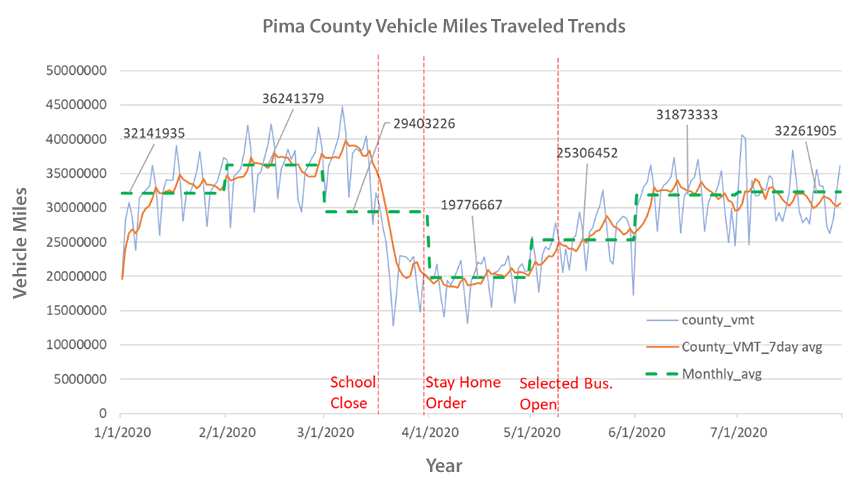 StreetLight data was used for the analysis shown above.
As of June 2020, total VMT volumes in Pima County have recovered to January 2020 levels, as shown above.
A significant reduction in total VMT volumes is illustrated above for the period between March "School Close" and following the May "Selected Bus. Open" timepoints.