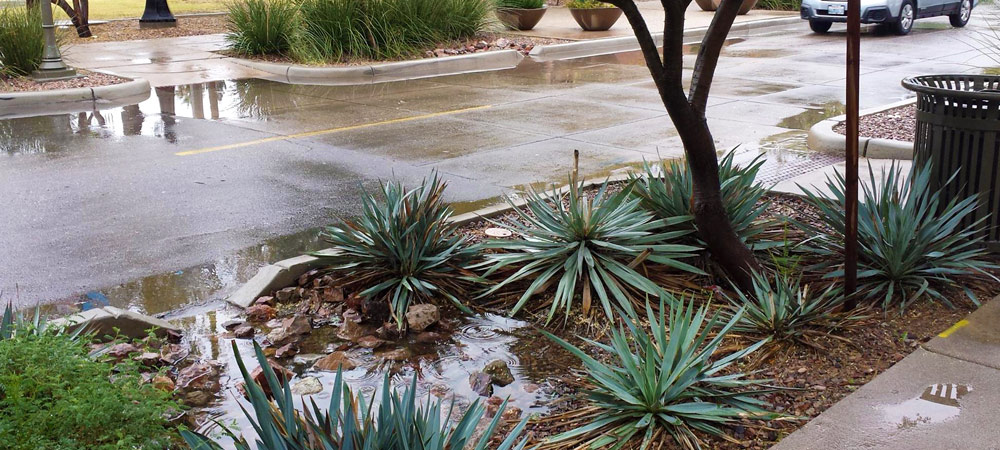 Pima Association of Governments coordinates stormwater pollution prevention with its member jurisdictions, offers construction guidance on best practices for pollution prevention, and encourages green infrastructure projects that control stormwater runoff, all to manage stormwater quality in our region and meet our planning goals under Section 208 of the federal Clean Water Act.
The Tucson region is a desert community with streets designed to convey stormwater. Like much of the West, storm sewers are separated from the sanitary sewer system, meaning the stormwater flows to washes without treatment of pollutants. When stormwater runoff flows through our streets, it picks up loose sediment, chemicals, motor oil, trash, pet waste and other pollutants. Debris and sediment can clog drainage infrastructure, which can lead to unsafe flooding in streets and impacts on traffic. Pollutants also can be carried downstream and accumulate in the region's fragile desert washes. Washes offer some of our most attractive features in our region which most wildlife depends on for survival.
Under state regulations, local governments are responsible for protecting stormwater quality in the region. PAG coordinates with its members to identify effective stormwater management practices and achieve clean water in our region.
Local governments conduct stormwater pollution prevention outreach, incorporating educational materials created by PAG for regionally consistent messaging. Materials and interactive resources help the public and others understand the benefits of keeping our water clean and free of pollutants.
In addition, PAG provides information to the construction industry on how to manage stormwater runoff on construction sites. These efforts help the construction industry meet state and federal regulatory requirements.