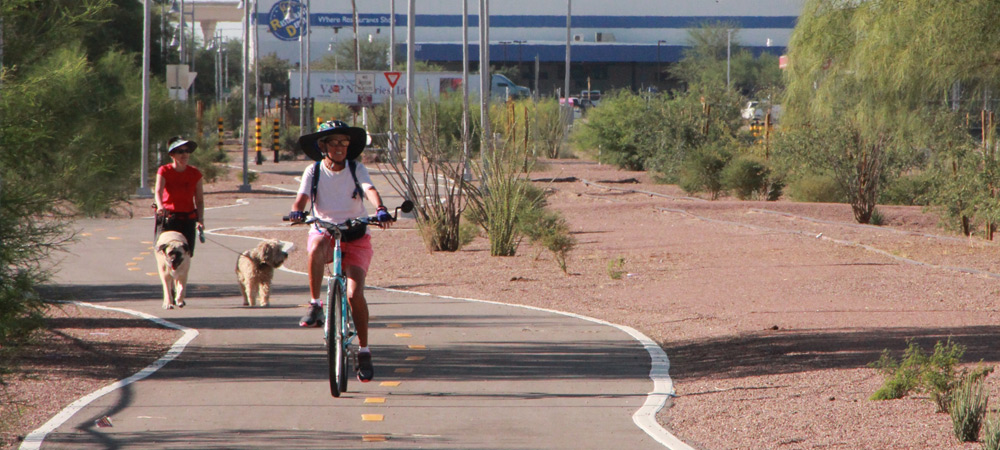 The greater Tucson region offers a dry, sunny climate that encourages cycling and walking, both healthy alternatives to driving and ideal for connecting people to public transit options. Through its planning efforts, Pima Association of Governments seeks to improve cycling and walking options for all users in the region via identification of funding sources to support infrastructure and safety improvements. These improvements include new sidewalks, signalized pedestrian crossings, bike lanes and off-street paths.
To improve bicycle and pedestrian mobility options and safety, the Regional Transportation Authority, managed by PAG, has funded more than 360 miles of new bike lanes, 179 miles of new sidewalks and 75 signalized pedestrian crossings since the RTA's regional transportation plan was approved by Pima County voters in 2006. The 20-year RTA plan is funded by a half-cent sales tax, which voters also approved to run through June 2026.
PAG's Regional Bicycle Plan looks to facilitate safer bicycle travel.
PAG's Regional Pedestrian Plan was developed to ensure a safe, accessible, comfortable and well-connected walking environment for everyone in the region. The plan seeks to address pedestrian infrastructure deficiencies in the regional network and to find solutions to those problems.
Cycling and walking are also key elements of PAG's Travel Reduction Program. Using active transportation such as walking or bicycling to commute to the worksite can lead to a healthier lifestyle and helps to reduce the number of vehicles on the road during rush-hour traffic.
The regional bicycle network consists of over 1,000 miles of bicycle lanes, routes, shared-use paths, trails and bicycle boulevards.
One of the largest bicycle and pedestrian networks for recreation and commute linkages is the Chuck Huckelberry Loop, a 137-mile system of paved, shared-use paths and short segments of buffered bike lanes. The Loop extends through unincorporated Pima County, Marana, Oro Valley, Tucson and South Tucson and can be enjoyed on foot, bikes, skates and horse. Portions of The Loop were funded by the RTA.
The region has received numerous awards and accolades in recent years for being bicycle friendly. Among the awards:
League of American Bicyclists – Gold Level Region, Gold Level Bicycle Friendly University, University of Arizona; Gold Bicycle Friendly Business Award, Town of Oro Valley
People for Bikes– No. 1 City for Everyday Biking
Outside Magazine – America's Top Biking Town
Triathlete Magazine – Nation's Number One Wintertime Endurance Destination
com – Top-25 Best Bike Cities in the United States
Travel Channel – Top-10 Cycling Cities
Redfin – No. 2 Most Bikeable Downtowns