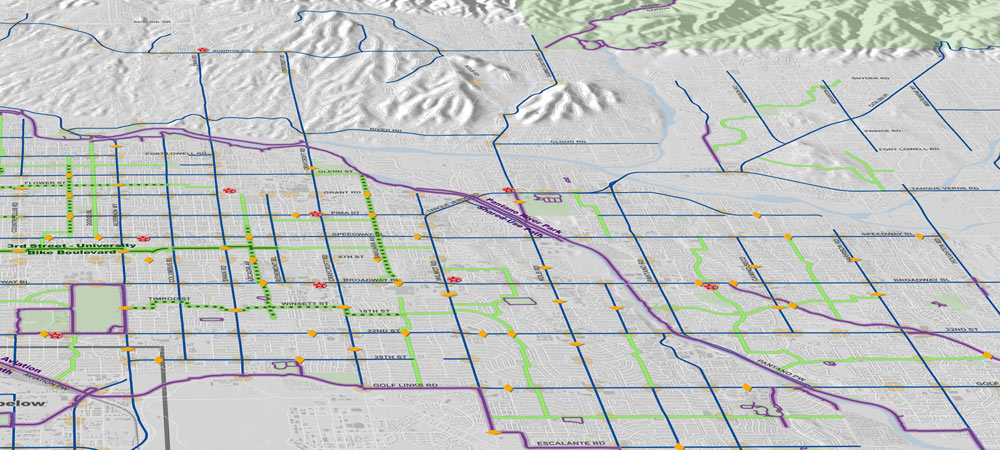 Pima Association of Governments produces customized maps that can aid the public in a variety of subjects including simple location maps, school search, an interactive bike map and terrain data.
Interactive Maps
Pima Association of Governments creates a variety of interactive maps for use by member jurisdictions and others. All maps are created using geographic information systems (GIS) data for the Tucson metropolitan area.
School Search Map
If you are researching where to send your children to school in the greater Tucson region, this map helps you find out which schools are located near your home address. This tool allows you to view a school's boundary for attendance and lists the addresses of elementary, middle and high schools.
Tucson Bikeways Map
PAG's Tucson Bikeways map encourages bicycle safety in the greater Tucson region by informing bicyclists of the lower speed, lower traffic volume route options. Highlights for new and veteran bicyclists include enhanced bike routes, bike boulevards and shared-use paths.
Arizona Healthcare Assets Map
Arizona Healthcare Assets Map is a web-based map viewer tool assisting with statewide COVID-19 coordination efforts. The viewer tool includes the location of medical care facilities in the state, contact information and bed capacity, in addition to a vulnerability index based on demographics such as age, income and access to a phone. The tool was developed by Maricopa Association of Governments, PAG's partner organization.