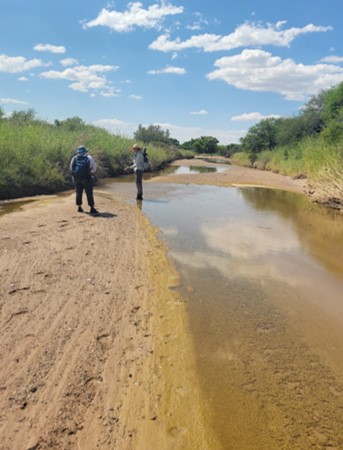 Near-record rainfall in the Tucson metropolitan area in the summer of 2021 was made more remarkable after nearly no rainfall the year before, and the effects of both were on display recently in Cienega Creek.
Pima Association of Governments has been onsite collecting data on the amount of water in Cienega Creek, and its Davidson Canyon tributary, for decades. Cienega data goes back nearly 40 years and tells a richer story than simply how much rain the region received. Understanding how the waterways react to exceptionally wet years and drought conditions in other years can provide insights about the groundwater levels, year-round creek flow extent, riparian area health and fire danger.
According to PAG's quarterly monitoring at Cienega Creek, the waterway showed clear signs of its health at both extremes, said Melanie Alvarez, a PAG planner who leads this water monitoring and analysis.
In June 2021, before the monsoon began, the creek was experiencing the lowest flow in nearly 40 years of PAG monitoring, with surface water visible on just 7% of the 9.5-mile monitored area.
Then, in September 2021, after parts of the watershed received more than 20 inches of rain, Cienega revealed the highest flows in the past two decades of data, with more than seven miles of streamflow recorded in the creek, and nearly 2.5 miles of flow in Davidson Canyon. Previously, the canyon showed no flow for a full year (September 2020, December 2020, March 2021, June 2021 monitoring dates) for the first time in the 15-year history of monitoring that area.
How we use the information
Mead Mier-Welborn, PAG's watershed program manager, said the public often hears drought messages related to potable and imported Colorado River water supply, yet local drought signals are important for the environment and people who enjoy visiting or living near creeks.
When government agencies in the region need information for drought planning, how much precipitation the region received is one local data point, but it doesn't tell the whole story about what's happening in our Sonoran Desert, or how to make sustainable decisions about water resources, Alvarez said.
Why are these two areas monitored? They have been designated Outstanding Arizona Waters by the Arizona Department of Environmental Quality. The designation means they have outstanding water quality and typically have year-round flow, Alvarez said. This is in contrast with many other waterways in our region that dry up at least for part of the year.
"They make a really good proxy for what other riparian areas could look like if flows came back," Alvarez said.
Cienega Creek runs in an area with shallow bedrock and shallow groundwater levels that are typically within 50 feet of the surface, so it is very responsive to local precipitation as well as draws on the groundwater, explained Mier-Welborn. Being surrounded by a County Preserve also helps show the impact of the conditions.
"If we have an almost nonexistent monsoon season, we don't get all of that important groundwater recharge that helps keep the surface water levels up," Alvarez said.
The Cienega watershed provides a significant source of natural recharge for the Tucson Basin, she said.
In turn, plants and animals respond to changing water levels. In September, PAG monitors saw increased abundance of vulnerable and/or protected species such as Gila topminnow, Gila chub and lowland leopard frogs in Cienega Creek.
"This shows how these systems have responded to the current drought and informs planning activities, conservation and mitigation efforts. It's also informing land use decisions that could happen in this particular watershed," Alvarez said.
PAG works with Pima County on the project, and the data informs water planning, flood control management and other land use activities.
"PAG's work helps our office understand how aquatic habitat conditions for species like fish and frogs vary over time. But it's not just about flow; sediment moving through the system and other factors play a role," said Julia Fonseca, an environmental planning manager in the county's Office of Sustainability and Conservation.
PAG provides the data to several departments at Pima County, including the local drought impact group, which sends the information to the state.