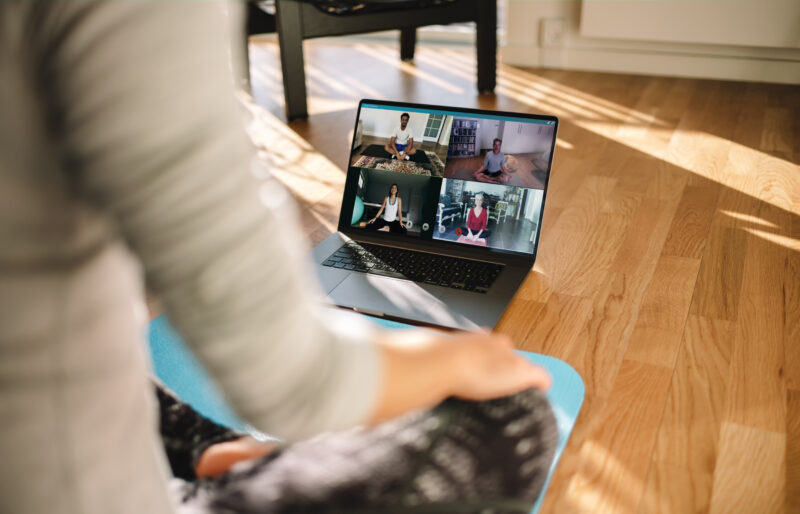 You've set the goal to get healthy in the new year. You love the idea of using active transportation as a healthy alternative, but you face one big dilemma. You already work from home full-time or work a hybrid schedule. Don't worry, though, you can still find ways to get in better shape.
On the days you do go into the office, consider using active transportation. For commutes less than a couple of miles, walking is an easy, effective free option. For commutes less than 10 miles, cycling is a healthy choice for improved fitness.
Work farther from home? Walk or ride your bike to the bus stop to add physical activity to your day. This can also be an option for those in a carpool. Live close to another one of the riders? Use active transportation to meet at their house on the days you are not driving.
When working from home, carve out a specific time each day to go for a walk, jog or even do a quick online workout. If you usually take a break at 10 a.m., use that time to get 10 minutes of exercise in. Go so far as to put your exercise time into your planner or calendar. Stack a couple of breaks and some of your lunch to get all of your daily exercise done.
Being a good employee in the home setting, though, takes discipline, and you can use the same motivation to stay on task to get healthy.
The University of Pennsylvania offers more tips on how to stay active while working at home.
Stand up every hour – Being sedentary for long periods is not good for your health, so even if you've done your exercise routine for the day, get up periodically. Set a timer to make sure you don't get so focused on work that you forget to move.
Sneak in extra movement – Walk while you are on the phone or in a meeting that does not require you to make a presentation. Have to watch a seminar or listen to a meeting? Consider doing things like squats, jumping jacks or calf raises while you listen in.
Go digital – YouTube and smartphone apps offer a variety of workouts for every interest and ability level. With minimal equipment, you can do yoga, Pilates, kickboxing and bodyweight workouts.
Use what you have – You don't need fancy gym equipment. Sit-ups, push-ups, yoga and many other types of exercise can be done with no equipment at all. Simple household items such as a bag of sugar, cans of soup or a bottle of laundry detergent can be used as weights.
In addition to sit-ups and push-ups, effective body weight exercises include lunges, planks, leg lifts, jumping jacks, burpees and running/jogging in place.
Take advantage of the time you usually use to commute. When working a hybrid schedule, you may be tempted to sleep in a little longer on the day you work from home. Instead, use that extra hour to set your workout time before you log in for the day.
Want morning coffee from an area coffee shop or an afternoon snack? Incorporate active transportation into your routine. Considering walking or biking. Or jog on over to the nearest convenience store. Need groceries? Set the car keys aside and pedal over to a nearby store when you need one or two items.
Exercise can bring more health benefits than physical improvement. Walking, for example, can also put you in a better mood, reduce stress, stimulate creativity and improve focus.
When it comes to reaching your fitness goals in the new year, take advantage of these health tips and the many options available to try while teleworking full time or working a hyrbrid schedule. Good luck.