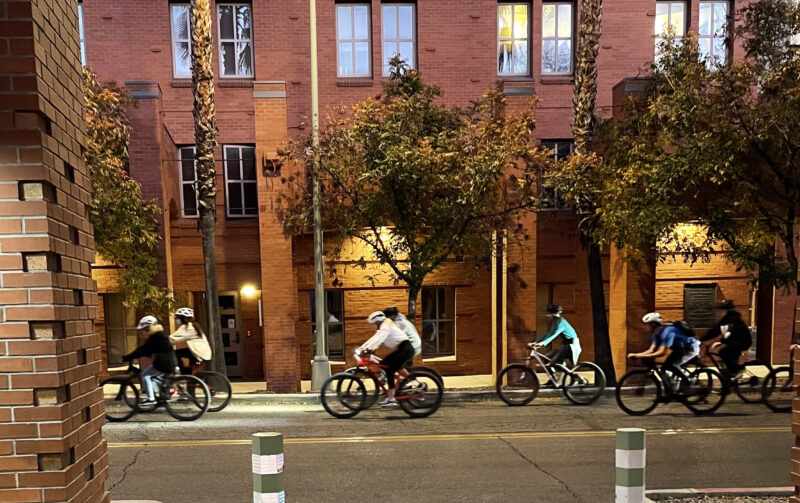 Southern Arizona has long been a welcoming place for cyclists. Thanks to great weather, standout amenities and the local jurisdictions' commitment to cycling infrastructure and safety, the League of American Bicyclists has again recognized Tucson and the Eastern Pima County Region's efforts and designated it as a Bicycle Friendly Community at the gold level.
The region's commitment to making biking better for everyone can directly benefit you and your desire to be healthier and help the environment. For many, cycling is a perfect way to commute to work, while others have found cycling a terrific way to connect to transit as their preferred method of commuting.
Those who cycle to work experience weight loss, improved cardiovascular health and reduced stress.
Pima Association of Governments (PAG) offers a variety of online resources for cyclists. They include safety resources  and tips, as well as information about sharing the road with motorists and how traffic laws apply to cyclists.
One of the reasons the region was awarded the gold-level designation is the regional bicycle network, which consists of over 1,000 miles of bicycle lanes, routes, shared-use paths/trails and bicycle boulevards. PAG provides a printable and interactive Tucson Metro Bike Map (https://maps.pagregion.com/PAGBikePed/BikewaysMap) that can help you plan your routes around town, giving you the safest, smartest and fastest way to cycle in the metro area.
The Loop, a regional bicycle route that has 120 miles of paved pathways and bike lanes in Pima County, is a great way to traverse the region on a bike. Pima County provides an interactive map to show various access points and other amenities.
Like any hobby, buying all the latest gear and accessories to get started may be tempting, but that is not necessary. According to bike experts at REI, the basic necessities for cycling "are just you, a bike and a helmet. While other gear is nice to have, it can come later. Just get on a bike and go." Once you fully commit to cycling, you may want to invest in glasses, tire repair kits, bike specific clothing, gloves and more.
For those who want to cycle to work, here are a few easy-to-follow steps to make it a smoother experience.
For less experienced riders, take some practice rides to get used to your bike.
Before going out on the road, ride around the neighborhood or even a parking lot.
Once comfortable, go for short rides to the store or out to eat. When you master that, you are ready to commute.
Worried about the distance? REI suggests riding part of the way driving your car part of the way and riding your bike the remaining distance. Or, ride your bike to a bus stop and finish the commute via public transit.
When employer dress codes are not conducive to cycling, REI's cycling experts suggest packing work clothes with fabrics that are less prone to wrinkles or using items such as packing folders or cubes to reduce wrinkles. Or, on the days you drive or ride the bus, take a couple of outfits to change into at the office after your bicycle commute.
Fear of getting sweaty when no showers are available at work? Riding to work earlier in the morning when temperatures are cooler can lead to a more casual ride and less sweat.
Where there's a will, there's a way.