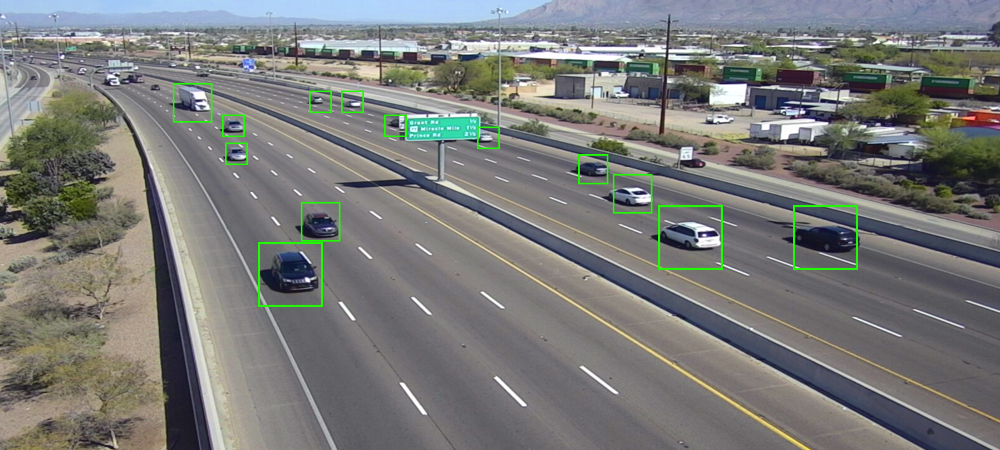 Traffic counts
Pima Association of Governments (PAG), along with some of its member jurisdictions, regularly collects traffic counts on major roads and intersections throughout the region. Traffic counts provide vital data for PAG's transportation planning and travel forecasting. Others who use traffic count information include:
Transportation engineers and planners throughout the region to identify existing traffic problems and solutions.
The Arizona State Legislature and U.S. Congress to make decisions regarding the need for and allocation of state and federal funds.
Regional, state and federal air quality experts to monitor traffic-related pollutants and conformance with air quality standards.
Private sector marketing specialists to use as measures of accessibility and exposure.
PAG annually collects and maintains traffic counts throughout eastern Pima County, typically using pneumatic tubes and video cameras on road segments and intersections. Around 900 road segments are collected on a three-year cycle, including 50 to 100 vehicle classification counts and turning movement counts for 50 to 150 intersections collected annually.
Traffic count collection improvement
PAG member jurisdictions use a variety of traffic sensors to collect traffic data throughout the region. To improve its traffic count program, PAG uses a comparative analysis method it developed in 2021 to integrate the regional traffic data into its traffic models, to provide guidelines to manage and maintain the data, and to validate regional modeling efforts.
The summary and conclusions of the 2021 analysis include:
Around 590 signalized intersections in the greater Tucson region are equipped with intelligent sensors. About 70% of video-based sensors are outdated and have limited ability to collect and store remote traffic data. Outdated sensors are only configured with the traffic detection module for signal control. However, they are not configured with the module for traffic data collection.
To overcome the issue with the limited ability of most sensors and consolidate major sources of data, PAG uses Miovision video sensor data collected from Pima County and the Town of Marana. PAG also developed and proposed a procedure with a machine learning algorithm that uses a multilayer perceptron neural network and event-based data from the City of Tucson MaxView advanced traffic management system (ATMS).
Through the proposed procedure and an additional model developed for corridor segment volumes, PAG estimated turning movement counts (TMC) at about 370 intersections and segment volumes on about 360 segments as part of the analysis.
Currently, only Miovision sensors used in the greater Tucson region provide the remote data collection option. Signalized intersections using Miovision sensors could potentially be continuous volume collection stations. (PAG is incorporating the collected Miovision TMC data into PAG's Traffic Counts Interactive Map.)
Estimated TMC by the machine learning algorithm with the event-based MaxView data and estimated segment volumes are useful and cover a large portion of signalized intersections. The accuracy of the estimation varies by location, but this data source can be used as a supplemental data source for the PAG traffic count program.